Social Style Sales Training
What would your company's numbers look like with performance gains like these in your sales organization?
48% increase in calls to high-level decision makers
18% reduction in turnover of sales reps
25% increase in new accounts
The focus of our work is in areas where sales trainers often don't go and usually have little experience. Everything we do is customized to your company, product and market. It's not some off-the-shelf, canned, or check-the-box program. 
Here's the bottom line . . .
Social Styles Sales Training can increase your sales.
Research shows that salespeople with high versatility - sell more. Using control and experimental groups, Social Styles trained groups outsold the control groups by an average of 26% during the three-month period after training. The research also found that after SOCIAL STYLE Training, more than 94% of salespeople said that they are more conscious about how their behavior impacts their customers. 94% of the salespeople had improved at least one key characteristic that is common throughout every list that identifies what makes great salespeople. We would like to send you a white paper - The Keys to Sales Success: Great Salespeople can be Made. (Either email us or use the sign up form.)
Social Style Sales Training Workshop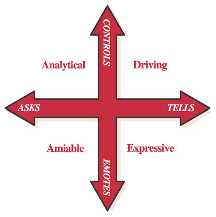 This workshop is a 1.5-2 day program depending on your needs.
One the first day, participants learn about Social Style and buyer behavior.
The second day introduces Versatility and then applies Social Style concepts to the salesperson's selling process.
Both days are interactive sessions with plenty of practice, group exercises, discussion, role plays, and feedback..
After the Social Style Sales Training Workshop, your salespeople will :
recognize four different customer buying styles
discover their own unique Social Style
understand how buyers make decisions
plan sales calls to relate to the buyer
learn how to open a call based on the buyer's social style.
understand buyer's preferences for small talk
ask appropriate questions to uncover needs and buyer style
anticipate objections and how to address them
understand how to best close the business.
Whether you use Professional Selling Skills, Counselor Selling, Face-to-Face, Solution Selling or other selling skills program, we'll make sure that Social Styles Sales Training is compatible with your selling system to reinforce those skills.
We typically use Tracom's Producing Results with Others(PRO) or Understanding and Managing Behavior Differences (UMBD) as the foundation program that we build a custom sales program. Both programs teach the same content on day one. On the second day, the content is customized to fit your sales process and existing sales training.
Your Facilitator
Rob VeVerka will conduct your session. He is an experienced and certified Social Styles facilitator and sales trainer. At Xerox he trained salespeople and managers at Xerox University. He was also rookie-of-the-year in his first year of selling. He works with many organizations around the world including Kroger, P&G, MetLife, Department of Energy, Rife's, Deloitte and many other organizations. He has an MBA in marketing and finance..
You may have found that classic sales training is often a waste of money. I am not a basic sales trainer. Instead, I'am a business-savvy MBA with leadership, marketing, and serious sales experience. I dig deep to understand your business, market and needs. 
If you would like results like those listed above, let's have a short phone call.  You can reach me on my cell (513) 400-3533 or email me. Let's talk about some of your sales challenges and how that's affecting your company's profits. ...rob 
---
Why Professional Learning Systems?
One of the key differentiates of Professional Learning Systems is that we talk about follow-up and coaching at the onset of our business relationship. This help you get a better ROI from your investment.


We customize all of our training around your markets, customers, and products. Custom Training helps participants quickly apply the knowledge and skills.


Our instructors are certified by Tracom. They have significant business experience and have outstanding reputations as facilitators. You will get a quality and highly-rated outcome.


You work with the same person from the initial discussions, at the seminar, and after the program. You are not passed off to someone else to take you to the next step.


We provide our clients value-added services such as customization, executive and versatility coaching, and follow-up sessions often for no extra charge.


For more information - call 513-772-5115 or contact us.
---

Professional Learning Systems, LLC is an authorized and certified associate of Tracom. Social Style, Producing Results with Others, Selling to Achieve Results, are service marks of the TRACOM corporation.