Social Style Versatility
Half or Full Day Reinforcement Workshop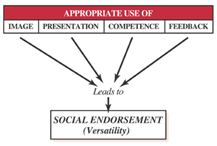 A Social Style Versatility workshop reinforces the key concepts of Social Styles and Versatility. It use the content from an expanded Versatility Report to create an opportunity to quickly enhance the participant's Versatility and interpersonal skills.  Many of our clients use this program as a follow-up to either Producing Results with Others or Understanding and Managing Behavior Differences.
The Social Style Versatility workshop offers a simple way to increase interpersonal effectiveness for those who have participated in a multi-rater SOCIAL STYLE training course within the last three years. This includes participants trained with TRACOM, Wilson Learning, or other social style based programs. The workshop and/or assessment is ideally conducted 3 to 6 months after initial multi-rater SOCIAL STYLE training. Participants that have undergone multi-rater Style training within the last three years can also benefit. 
The process uses an expanded multi-rater Social Style Versatility assessment. The workshop and/or assessment help participants refresh their understanding of Social Style and Versatility principles. As a result, they will further improve their own Versatility, and increase their interpersonal effectiveness with others. 
Here's a sample half day workshop:

Introductions

10 min

SOCIAL STYLE Review

Dimensions of Behavior; SOCIAL STYLE MODELTM; Tension Management

15 min

Class Discussion

Identify cultural environment (micro/macro cultures; challenges; behaviors that are valued; behaviors that are not)

40 min

Versatility Review

Sources of Endorsement; Steps for Earning Endorsement

15 min

Break

15 min

Class Discussion

Identify personal challenges participants have faced in increasing endorsement; tie back into cultural environment identified in #3

45 min

Panel Interview

Exercise conducted in Style groups. Focus on challenges to earning endorsement; cultural impact; challenges with other Styles

60 min

Conclusion

Review expectations (optional)

10 min
How It Works
Before the workshop, a participant completes a short online survey that takes only 5 to 10 minutes to complete. They identify up to ten other individuals (raters), to assess their Versatility. Once the raters and participant complete the questionnaire, a custom 40-page Versatility Report is generated and sent electronically to the participant, or distributed in a workshop.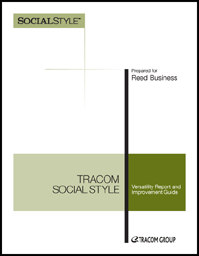 The Social Style Versatility report includes:
Review of SOCIAL STYLE and Versatility concepts.
Personalized Versatility results addressing the specific components of social endorsement.
Recommended action items to improve Versatility based on Style and Versatility ratings.
"Doing Something for Others," a section that recommends ways to interact with people of each Style.

Download a free sample of the Versatility Report
The Social Style Versatility Report and Improvement Guide reinforces the key concepts of Social Styles and Versatility. Together with a social style review, it provides a half or full day reinforcement of Social Styles .TRACOM developed this unique tool as a direct response to client requests for a way to reinforce SOCIAL STYLE concepts. It also helps the participants re-focus their efforts to improve their versatility.
Versatility Coaching
The Social Style Versatility report can also be used for coaching sessions. It provides detailed recommendations to improve their relationships and interactions.  Individual coaching sessions can include a personal discussion about the Report and how it relates to the person's work experiences, responsibilities, and the organization's culture.  A coach would help the individual identify the opportunities for the greatest impact and create a development plan based on the feedback.   The coach would use The Social Style Coaching Program if the individual has not had Social Styles. If the leader has been through Social Styles recently, the coach would use the Social Style Versatility Report as a foundation for the coaching experience.
Order the Versatility Checkup
The Social Style Versatility Report is available as a stand-alone product without the workshop or coaching. You can order the Versatility Checkup for your Social Style graduates. The report includes:
a review of Social Styles and Versatility concepts
personalized versatilty rykts addressing each of the four components of versatility
recommended actions for improving Versatility based on the ratings
an electronic copy of Achieving Higher Versatility guide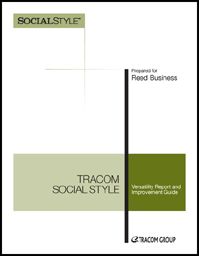 The cost is $65 per participant. 
To order the online Versatility Checkup, click the button below. Upon receipt of payment we will contact you to provide you a password and website information. 

For more information on how you can bring the Versatility Workshop or Coaching Program to your organization, please call us at 513-772-5115 or contact us. 
---
Why Professional Learning Systems?
One of the key differentiators of Professional Learning Systems is that we talk about follow-up and coaching at the onset of our business relationship. This help you to get a better ROI from your investment.


We customize all of our training around your markets, customers, and products. Custom Training helps participants quickly apply the knowledge and skills.


Our instructors are certified by Tracom. They have significant business experience and have outstanding reputations as facilitators. You will get a quality and highly-rated outcome.


You work with the same person from the initial discussions, at the seminar, and after the program. You are not passed off to someone else to take you to the next step.


We provide our clients value-added services such as customization, executive and versatility coaching, and follow-up sessions often for no extra charge.


For more information - call 513-772-5115 or contact us. Download the PRO brochure.
---

Professional Learning Systems, LLC is an authorized and certified associate of Tracom. Social Style, Producing Results with Others, Selling to Achieve Results, are service marks of the TRACOM corporation.

.