Introduction to Social Styles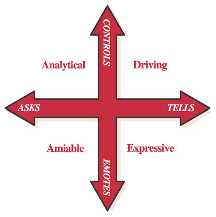 Introduction to Social Styles teaches the concepts of the Social Styles Model. It uses the Social Style Assessment Self-Perception Instrument, to help participants learn their behavioral style. It also assesses the participant's Versatility. This program covers all the basics of social style, but has fewer opportunities for hand-on exercises and practice that you would normally get in a one or two day program. The program is a half-day workshop.

Download an overview of the program


Download the facilitator's outline.

You can easily teach the Social Styles Model. We've made it simple for you.
No Certification is required.
Introduces Social Styles concepts, including Versatility, with lower cost and time commitment
Half-day format
Ideal for non-executive/managerial staff
Includes the Social Styles Assessment

Introduction to Social Styles - Starter Package
One Leaders Kit with carrying case
Ten self-scoring or online self assessments
Shipping and handling to 48 states
Online administration and monitoring with updates
Composite report of all participants
Phone consultation time to prepare you to run the program.
Social Style Navigator online tool for all participants
The cost is $1495 for the self-scoring version, or $1695 for the online version.
Normal delivery is 5-6 days via Fedex Ground. For international orders, please call before ordering to get shipping charges. Your order may be subject to state sales tax. Training materials are not returnable.
---
Introduction to Social Style – OnDemand
Too busy to attend a seminar?  Want to get an overview of Social Style?  Take this 2-3 hour course online and learn your social style with this online version of Introduction to Social Style.  This highly interactive course will help you to learn the Social Style Model.  Course includes videos, case studies and examples of how you can increase your personal effectiveness with others.  You will also take the self-assessment to determine your style.  You will also get a versatility rating to see how well you use your style with others. After the program, participants get access to Social Style Navigator an online tool for reinforcement and follow-up.
If you want to learn about Social Style, there's no better bargain out there for $75. You get:
2-3 hours of interactive online content
A self assessment that pinpoints your Social Style and Versatility
Social Style Sales Navigator that help you to profile others and recommends steps to increase your effectiveness with others
---
Ordering information:


Normal delivery is 1-2 weeks via Fedex Ground. Call 513-772-5115 if you need expedited overnight delivery. We will invoice your directly for the added shipping costs.
When applicable, sales tax and special shipping and handling will be billed on a separate invoice before shipment. California, Washington, Colorado, Texas, Minnesota, New Jersey, and North Carolina.
International orders require a quote before ordering and we will invoice you for the order and shipping. Otherwise there will be a delay your shipment.
Training materials are not returnable.
For more information - call 513-772-5115 to discuss your needs, schedule an appointment, or contact us.